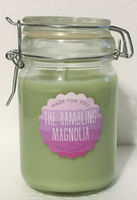 It's not just about candles
The Rambling Magnolia is a custom soy candle company based out of New Jersey. Since our launch in 2016, every candle has been handmade and crafted to the finest detail.
The Rambling Magnolia is not just about candles- it's about whisking you away to a place of joy, happiness and fond memories. It's about setting a mood or eliciting a certain emotion with scents like lavender silk when you want to relax or yuzu and stonecrop for a feisty citrus burst of energy. We celebrate creativity and quality, and our handmade soy candles and tarts come in a variety of scents that can be used by themselves or mix them up to make unique combinations. 
My name is Elizabeth Sims and I was raised in the south. I was born in Mississippi and went to high school in Tennessee, and after that I spent a few years in Kansas. So, after all that rambling, how does a Mississippi magnolia find herself putting down New Jersey roots? Her mom of course! Once my mother moved to New Jersey it was only a matter of time before I followed. There, I started this business and the two of us now run The Rambling Magnolia Candle Company together. While we are very happy in New Jersey, Mississippi will always be home and with scents like magnolia blossom, fresh pear, and honeysuckle, we can visit every time we light a candle.
Whether you walk, run, or ramble your way through life, a special scent can always bring you home.
Testimonials
I don't buy candles often but when I do I make sure to come to @theramblingmagnolia for amazing custom work! Inquire within and I promise you won't be disappointed!

Alex A
I only just lit it, but it's already so pretty.

Bolo W
I love my starter kit!! Great customer service and great prices!! What else to ask for?

Alex A
some of my fav's :-) absolutely the best candles around!!

Crystal C
About Our Candles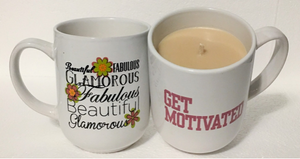 Reusable Containers
All of our containers are reusable.
They can be reused as items such as wineglasses, mugs, and candy dishes.
Have another idea? Send us a picture! We love seeing what our customers come up with!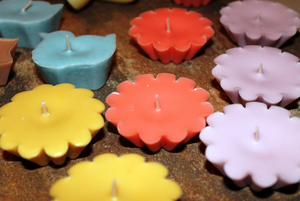 Natural Soy Candles
All of our candles are made with top-of-the-line, all natural soy wax, and skin-safe oils.
We use braided wicks that are zinc free and eco-friendly, with interwoven paper threads to give you a significantly reduced afterglow.
The result? A much cleaner burn with less soot and smoke.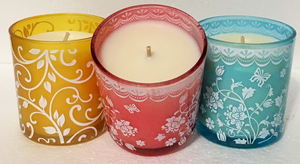 Customization
If you wish to order a special customization beyond what we list, contact us directly and we will do our best to work with you!