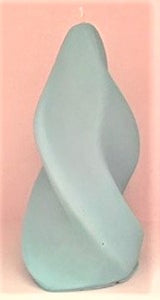 This candle is open to interpretation. Its listed as a "flame" and clearly IS exactly that... but I think with the right color (and imagination!) it could be a curl of smoke, a twist of wood, or (my favorite) a wave. No matter how you see it, it sure is pretty! The candle has an approximate burn time of 35+hours when burned correctly.  To ensure you get the best from your candles, please check out our tips and Candle FAQ.
Wax comes in your choice of one color and one scent from our available lists.
When/if you burn these candles, they must be in a container of some type or the wax will run out everywhere. I recommend a bowl or jar so that the wax will pool and continue to burn for you. 
If you are interested in a Holiday scent or one of our retiring scents, check out our Entire Scent List and find those scents listed at the bottom. Choose "other" from the dropdown menu and in the "notes to seller" section let us know which scent you would like. Retiring scents are limited quantity, so if you choose one of those, we will contact you with confirmation we still have the scent, otherwise we will request you choose a different scent.
As with all our candles, if you wish to order a special customization beyond what is listed, please contact us directly and we will do our best to work with you.
About Our Candles:
All of our candles are made with top of the line, all-natural soy wax and skin safe oils. We use zinc-free, eco-friendly braided cotton wicks to give you a significantly reduced afterglow and a much cleaner burn. This in combination with the soy wax results in less soot and smoke from your candle.
Keep wicks trimmed to 1/4 inch. We recommend no candle be left unattended for extended periods of time or around children. No candle should be burned for more than 4 hours at a time. The wax in the candle should be allowed to cool before burning again.
For more information, feel free to check out Soy Candle FAQ.
Shipping:
Shipping will include tracking and insurance on all packages, as this is a breakable product.
All of our candles have a 3-5-day time between when they are ordered and when they will ship. This is because all of our products are handmade, custom for your order. We appreciate your understanding and we will let you know as soon as your item or items ship.
Due to the fact that candle wax can melt, please be sure in the hot summer months to have someone there to receive your packages when delivered or have them held at the Post Office for pick up.
We ship all our products with care and lots of packing materials, but sometimes things can happen in transit. If there is a problem with your product when you receive it, please contact us immediately.